iPod Repair Services

We are pleased to offer our clients a full repair service for all models of iPods, including the iPod Touch, and iPod Classic.From full glass screen replacements, to replacement batteries, The Apple Geeks have you covered. We have over 10 years experience in the repair and support of Apple products.
We are able to repair most iPod related issues the very same day, and while-u-wait. Some iPod related issues however we do use an outside specialist.Here at Apple Geeks we are able to replace all generations of iPod Touch screens, as well as battery's, dock connectors, home buttons, jog wheels, headphone connectors, and hard drives on the iPod classic.
iPod Touch Screen Repair 
iPod Touch, Classic, Nano Replacement  Dock Connector
iPod Replacement Home/Volume/Jog Wheel   
iPod Replacement Microphone and Speaker
iPod Battery Replacement
Water/Liquid Damage Dry Out Service

iPod Casing Replacement
We are also extremely competent and recovering and restoring water damage iPods. If the unfortunate has happened and you have dropped your iPhone touch, nano, or classic down the toilet, in the sink, bath, swimming pool, etc. We have a high success rate at repairing. If this is the case get in touch today.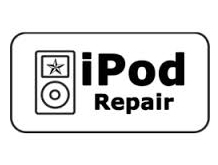 The Apple Geeks are Leeds premier alternative Apple repair experts basedin Chapel Allerton, North Leeds. We see clients from all around the area including Pudsey, Alwoodley, Moortown, Shadwell, to mane a few. With over 10 years experaince in the repair and support of Apple products we are able to address all your iPod repairs issues in a timely fashion.
Apple Geeks are available to help you and fix or resolve your Apple iPod problems Monday to Friday from 9.30am to 5.30pm. No appointment needed. We are friendly, fast, and fun! We are Leeds best alternative repair service for your iPod Touch, iPod Classic, and iPod Nano. All our work comes with 90 days warranty and we only use high quality parts. We would not use parts we would not use ourselves on our own Apple gagets. Trust the Apple Geeks!
Come by the shop today, or call us today on: 0113 8800620